Men's Garment Repair Services
Whether you've torn your bespoke tailored suit, need a leather jacket re-lining, or need a hole in your trousers or jacket repairing, Stitch Xpress is here to help.

We know that a noticeable repair is often worse than no repair at all, which is why we ensure that your garment will look good as new, with no noticeable repair work or new stitching. We can match any stitch pattern, thread colour or fine detail, resulting in a perfect repair of even the most expensive clothing.

No material is beyond the skill of our seamstresses, meaning we can provide repairs to denim, leather and suede garments as required.

If you need a fast turnaround repair, our Xpress service will have you dressed to impress sooner than you might think.

We are able to provide the following repair work on men's clothing:
Suit Repairs
Trouser Repairs
Jacket and Coat Repairs and Re-Lining
Shirt Repairs
Jeans Repairs
Leather and Suede Repairs
Zip Replacement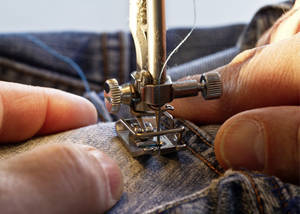 For a one-to-one consultation, please contact our store today.