Bridal and Wedding Dress Alterations and Services
Your wedding day is the most important day of your life. You want to ensure that your dress looks stunning, and that your bridesmaids are comfortable in their outfits.

That's why Stitch Xpress provide a range of stress-free bridal, wedding dress and bridesmaid dress alteration and fitting services. We've worked with hundreds of blushing brides, and can work with luxury lace, beautiful fabrics and any of the delicate and intricate details of your dress.

We'll make sure that you look simply amazing on your wedding day.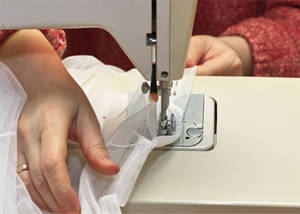 Before the Big Day

Our seamstresses and tailors are completely committed to providing you with a stressless, joyful wedding experience. And that starts from the moment you walk through our door.

Your First Appointment

We recommend arranging your first appointment as soon as possible once you've decided on a dress. If you visit us with your dress, undergarments and shoes, we'll carry out a full consultation, pin your dress (and your bridesmaids' dresses) and provide you with a quote and a date for your first fitting.

Your Fittings

An intricate dress may require more than one fitting. On your fitting dates, we'll advise you of all the alterations we need to carry out and make sure that your wedding dress and bridesmaids' dresses will fit perfectly on the big day. Once you are completely satisfied, you can collect your perfectly altered dresses, ready for your wedding.

After the Wedding

After your wedding, we can use your dress to create beautiful garments to remind you of the happiest day of your life.

One of the most popular ways to re-use a wedding dress is to use parts of it to create a beautiful christening gown for your child to wear. This can be accompanied by a bespoke dress for you to wear at the ceremony – reinforcing the bond between mother and child with beautiful matching outfits.

We can also turn your wedding dress into a stunning cocktail gown or evening dress, or take parts of it to create a unique blouse or skirt for special occasions.

What you choose to do with your wedding dress is up to you. But when you choose Stitch Xpress, you'll be certain to take away a beautiful new garment that's imbued with a special emotional meaning.