Ladies' Alterations, Restyling and Tailoring
Stitch Xpress' seamstresses and tailors draw upon years of experience to ensure that your clothes – whether classic favourites or new garments for a special occasion – always fit perfectly.

Our reputation for impeccable quality has been hard earned, as we've re-styled, re-sized, re-modelled and repaired garments to a factory finish. No matter the colour, size or style of your garments, we'll ensure that all of our work is completely invisible. By matching stitch patterns, thread colours and even the finest details, Stitch Xpress will alter your garments in such a way that nobody will ever tell that your clothing was ever damaged or a poor fit.

We're able to work with any materials, including lace and even the most delicate fabrics, to produce beautiful clothes that fit and compliment your figure perfectly.

Alterations and Restyling

We provide the following alteration and restyling services in our Burgess Hill shop:
Dress Alterations
Skirt Alterations
Coat/Jacket Alterations
Trouser Alterations
Jeans Alterations
Blouse Alterations
Leather Alterations
Fur Alterations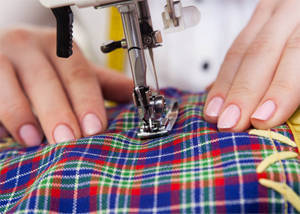 Tailoring and Dressmaking

Our skills are not limited to restyling and altering existing clothes. If you need to catch the eye at an important event, our team of seamstresses will hand-craft a truly bespoke outfit that will grace any gathering.

We'll discuss your personal tastes and style, before setting to work stitching and sewing a unique, one-of-a-kind gown or dress that elegantly compliments your figure and personality.

For more information on our personal tailoring and dressmaking service, please visit our shop for a consultation.